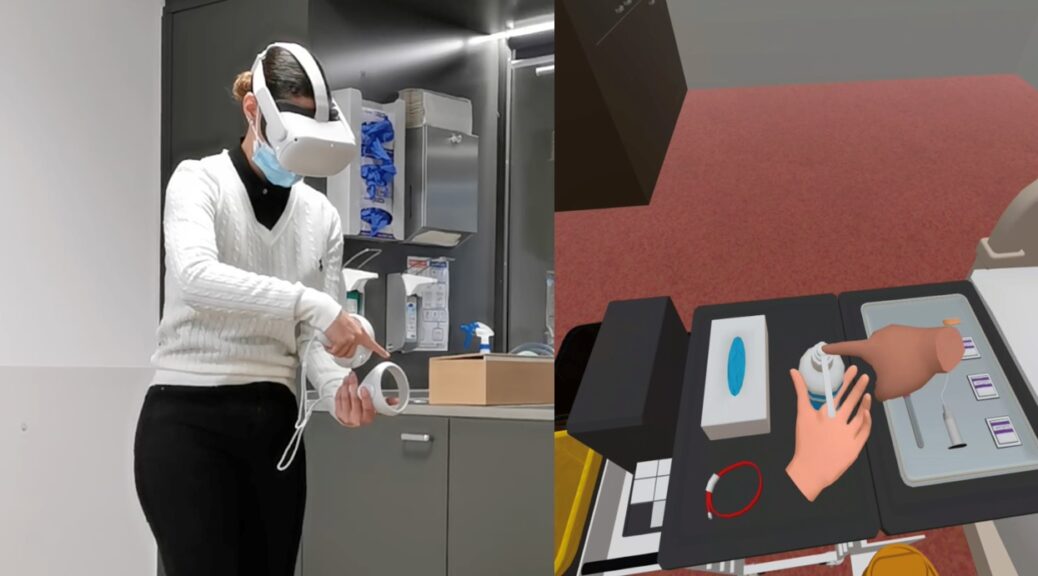 Asepsis training in virtual reality
Asepsis training in virtual reality
This virtual reality application allows HEdS-FR students to practice asepsis during a blood test.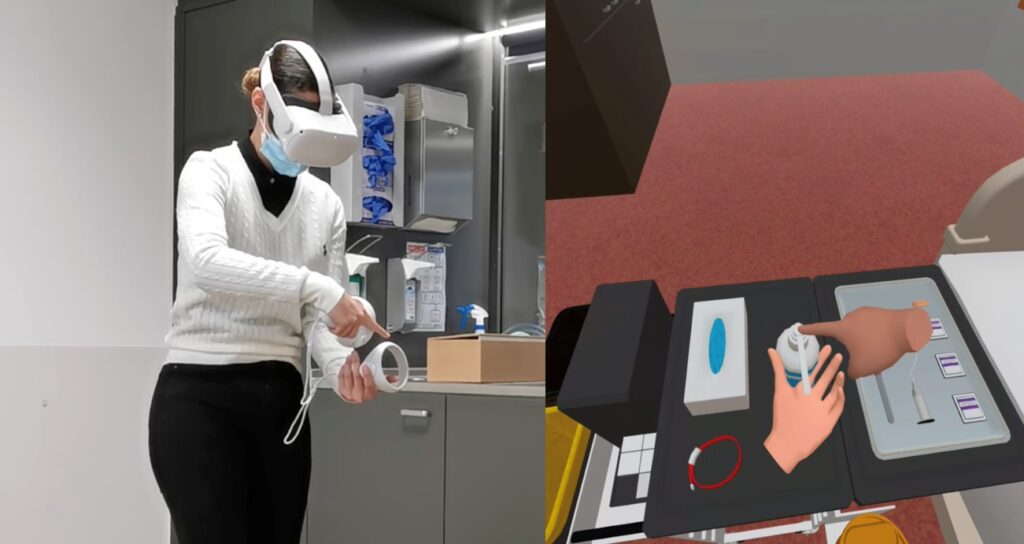 Medical errors are estimated to be the third leading cause of death in the United States with 250,000 deaths per year after heart disease and cancer. Surgical site infections is one of the nine most common errors.
Infection control is therefore a key element in the training of nurses and several practical simulation activities are carried out during the training. In this regard, rooms in the Simulation Center of the University of Applied Sciences Fribourg have been set up as patient rooms to simulate a care environment. Due to its high occupancy, access to this center is limited and regulated by the academic calendar. New technologies, and in particular virtual reality, could bring a concrete benefit in the development of simulations, because they not only allow to optimize the use of the simulation rooms (thanks to a reduced time for the setting up of the experiments) but also to completely disregard them, allowing students to train directly at home or outside of class hours.
We have developed a virtual reality platform for asepsis training in a healthcare setting. The first application developed carefully replicates a blood sampling scenario. The platform allows to visualize asepsis errors and contamination risks during the execution of the gestures, thanks to small colored dots which allow to make the contamination of surfaces visible. A point system makes this training more fun and allows students to compare their scores.
We conducted preliminary tests with nine students using an Oculus Quest 2 virtual reality headset. During the test, we compared different interaction modalities (joysticks or hand gestures) and different degrees of immersion (teleportation in a completely virtual environment, or mapping a real simulation room, with the possibility to touch physical elements). These experiments allowed us to draw a conclusion on the level of immersion reached by the new virtual reality technologies and on their possible implication in the practical training.
A pilot study will be set up to evaluate the impact that this tool could have on the learning of nursing students.