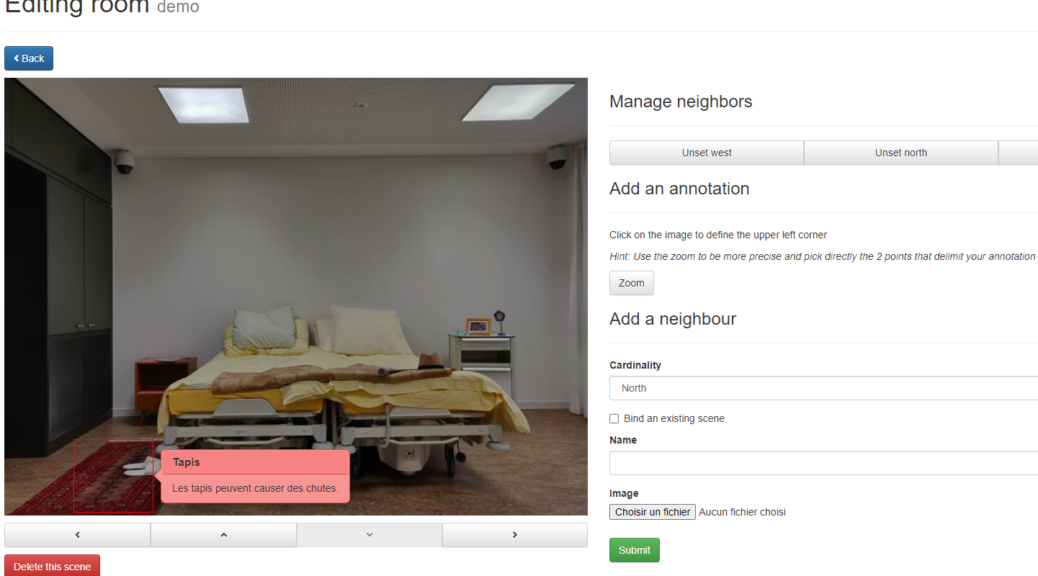 Simulated environment for virtual tours and training
Simulated environment for virtual tours and training
This tool allows you to create virtual tours from photos of an apartment and to add interactive elements to the tour.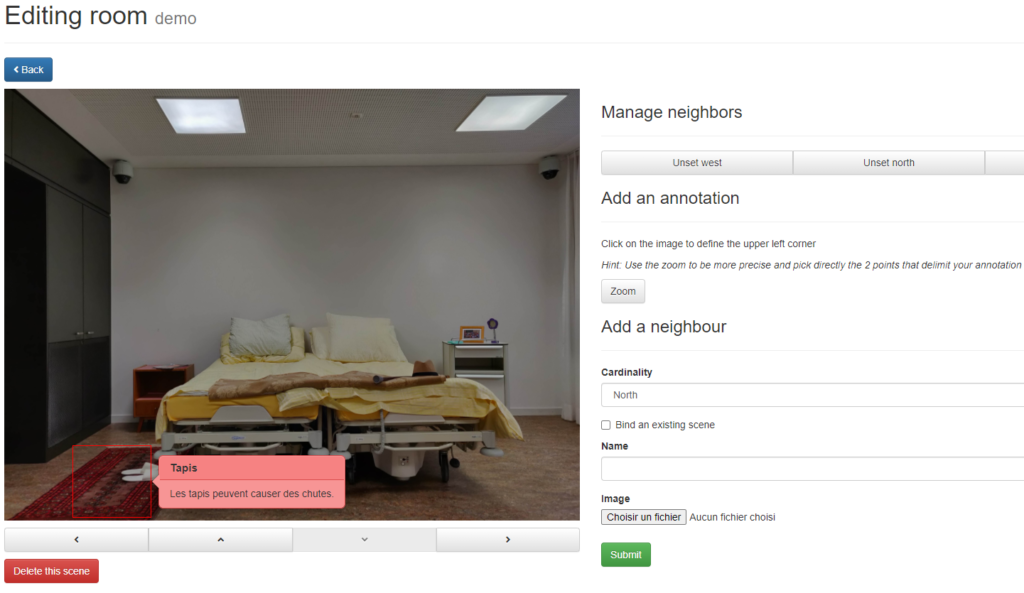 Creating environments similar to real-life situations, such as an elderly person's apartment, is particularly important in the training of students. This allows students to transfer what they have learned more easily into daily practice. The Simulation Center of the Haute École de Santé Fribourg aims at simulating different environments, such as a hospital, a nursing home room or a senior's apartment. The time required to physically set up the environment in the simulation center as well as the limited access to the rooms (especially in a pandemic situation), pushed us to develop an online tool that would allow the creation of a simulated environment and to show it in a simplified way.
This tool was developed by an alumni of the Haute École d'Ingénierie et d'Architecture Fribourg, during his civil service at the Haute École de Santé Fribourg. It allows a teacher to create a virtual tour from photos of the environment to be simulated and to annotate areas of the image with positive comments (in green), neutral comments (in black) or negative comments (in red).
Users visiting the simulated environment can either simply visit the environment and read all the annotations, or they can discover by themselves the annotations hidden in the pictures, for example to find positive or negative elements that are displayed in the pictures. This framework is particularly suitable for educational purposes.
A scenario for fall prevention in the elderly's home was set up and allowed students to identify elements that could cause falls (e.g., carpets, dim lights, with negative annotations) or elements that could prevent them (e.g., grab bars in the bathroom, with positive annotations).
Virtual visits for the Silver&Home project's show apartment have been set up to allow the visit of the apartment at Diabolo Menthe (now closed) and of the transient show apartment which is installed from time to time at the HEdS-FR simulation center (wait a few seconds for loading).